Hayes Knight Director Greg Hayes has won the prestigious AccountantsDaily 'Editor's Choice' Award at the 2015 Australian Accounting Awards.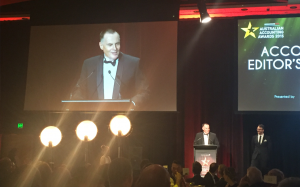 The winner, selected by the editor of AccountantsDaily from the pool of finalists, is bestowed on the professional the editor believes to be "…passionate and unafraid to speak their mind publicly and eloquently on the issues that matter."
Mr Hayes, who was also a finalist of the 2015 'Thought Leader of the Year' Award, is a well known and sought after spokesman on the issues affecting the profession and the businesses they represent.
"I'm thrilled, and a little surprised, to win this award," Mr Hayes said.
"My focus is not to simply be a commentator on what is happening. You can't just talk about the issues in a passive way. You have to actively apply your knowledge and insight. As a firm we seek to do this for our clients by helping them capture the opportunities available to them. We also take our own advice and have changed and shifted our own business model to realise the opportunities available to us."
CCH Australia (Wolters Kluwer) Managing Director, Russell Evans, described Greg as a "serial entrepreneur." An apt title for the founder of the Hayes Knight group, Knowledge Shop, Merit Wealth and now Managing Director of ASX listed Easton Investments. He is a practice management specialist, innovator, and published author who mentors and assists businesses to grow and develop their potential.
An accountant for over 30 years, Greg has built a successful Australasian accounting group from modest beginnings in the outer suburbs of Sydney. A popular presenter, Greg has 'been there and done that.'
Greg is a familiar face in the Australian media as an expert commentator on business and taxation issues. He regularly appears in the Australian Financial Review and other business publications.
Greg is a former member of the Advisory Review Panel for the Board of Taxation.